Rapunzel, Rapunzel
Text by Isabel Fucigna
Images by Catherine Satterlee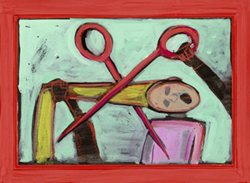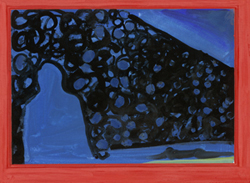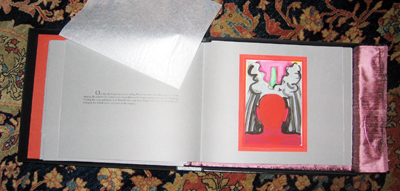 Edition of 10: Arlington VA, 2007. Loose in portfolio form with text on the left-hand side and image tipped on the right-hand side. 10" x 12". This edition was designed by the artist. The letterpress text is Bembo and was printed on 216 gsm Oxford Cover WealthTexture by Bowerbox Press from polymer plates. The sixteen images are from gouaches scanned and printed by Adamson Editions on 365 gsm Crane Museo Max paper on an Epson 9800 using the Ultrachrome pigmented ink-jet. Each set of 18 folios is wrapped in a silk chemise and tied together with pink ribbon affixed to the fabric with dark red French sealing wax. Housed in a black clamshell box fabricated by Cat Tail Run Hand Bindery; the outer cover of the box is encased in black paper with an embossed grain pattern; blind stamped title on the front cover; the inside is finished with Moriki paper. $1350.00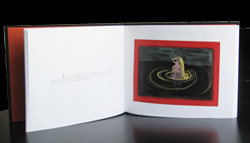 Edition of 100: Printed in Parsons WV, 2006. Hard cover with blind stamp. 8.5" x 11". 40 pages with 16 images tipped in. $50.
Interview with Catherine Satterlee on NPR's Morning Edition..
Sleep, Beauty
Text by Isabel Fucigna
Images by Catherine Satterlee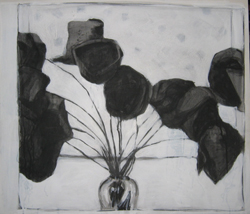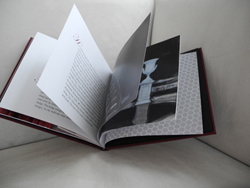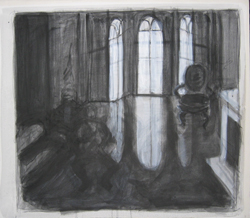 Edition of 10: Washington DC. 2013. Printed by Edition One, Berkeley CA. This edition was designed by the artist. The text is Palatino with Edwardian Script capitals printed on heavy bright white photo paper. The ten black and white images are from 22" x 26" acrylic paintings on primed Arches paper; small images in the center dream section are from gouaches photographed by the artist. Hard cover with burgundy linen cloth and blind stamp. 8" x 10". 42 pages. $70.
The queen's arms are two white buoys that bob as she bathes. Her body is gently lifted in the illusion of the hot springs, the body splintered between the heat of the water and the cool of the air. Drowsy, she dreams of the ocean, of intercourse, and the continuance of waves.
AAAAAA A frog—cock-eyed, speckled, rust-colored, his skin prickly and slimed—slips into the spring, skims rocks, swims through algae, scissor-kicks up her leg and into the creases of the folds of her vulva, and sucks until her stomach cramps. The baby comes that night, is pink and white. . .
Arti's Adventure
Text and images
by Catherine Satterlee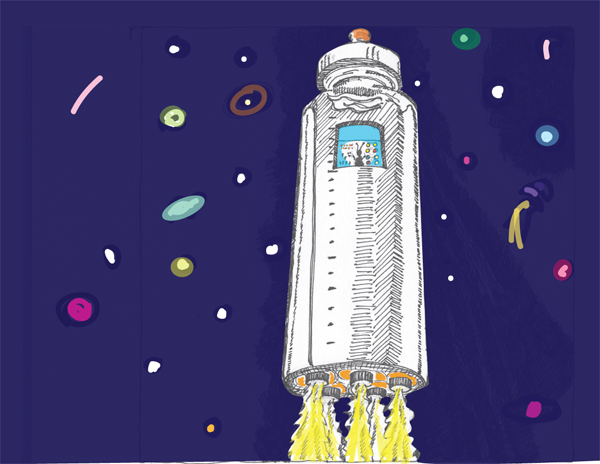 Our heroine is Arti, a little bug with an active imagination, a love of singing, and a spirit of adventure. When she finds herself in a human environment, she uses these characteristics to make sense of it. Arti's Adventure is a children's book that is about considering different points of view, thinking creatively, and enjoying one's own imagination–and singing voice! Included is sheet music for four popular American folk songs. Ages 4 to 8. 32 pages, image wrap soft cover. $15.
A Very Tall Tale
Text and images by Catherine Satterlee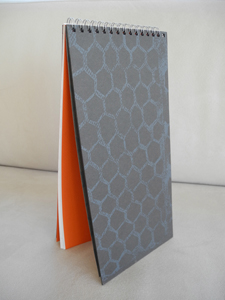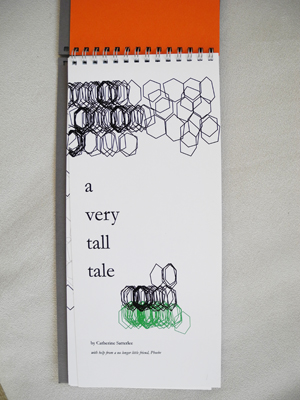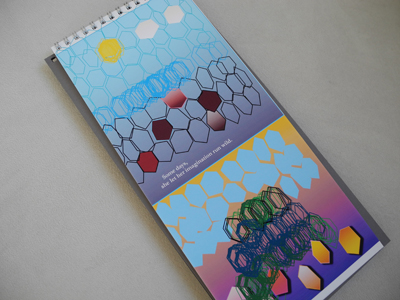 Edition of 25: Arlington VA, 2009. Designed and fabricated by the artist. Images developed in Adobe Illustrator. 11" x 5". 14 pages. Heavy cardboard cover with stenciled acrylic pattern, metal comb binding. $25.